What is Selective Laser Trabeculoplasty (SLT)?
Selective laser trabeculoplasty (SLT) was developed as a non-destructive laser treatment for glaucoma that could be repeated without damage to the trabecular meshwork (the drainage system of the eye).
SLT delivers short bursts of low-fluence laser energy targeting melanosomes and triggering the release of cytokines in the trabecular meshwork. Cytokines contribute to tissue repair and intercellular communication processes. This in turn reduces the progression of glaucoma.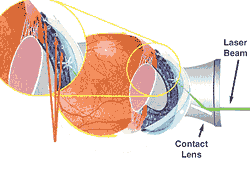 Although this has been postulated to improve outflow and reduce IOP, the potential benefits of SLT is not depdent on treating ocular hypertension.
Rather than relying on late indicators of glaucoma such as changes to the nerve structure and increased pressures, we utilize VEP as a putative early metric for glaucoma.
SLT is beneficial at earlier stages of glaucomatous nerve dysfunction before permanent structural damage to the nerve occurs.
What are the Risks of SLT?
Common side effects are soreness, mild inflammation, or blurry vision. Postoperative pressure spikes occur in 5% of patients and can be managed with drops.
What Ocurs During SLT?
A special contact lens is placed on the numbed eye. The doctor will apply the laser precisely adjusted to prevent burning or damage into the eye through a mirrored lens. The procedure lasts for about 10 minutes. Post-op intraocular pressure (IOP) is measured to make sure the pressure is stable.
How Successful is SLT?
SLT is expected to lower IOP by 30% from baseline in 80% of patients. Decrease in IOP can take up to 2-3 months and typically lasts for more than one year. More critical than pressure, we hope to see that the nerve continues to function normally and does not deteriorate over time.
Is SLT better than Topical Medications?
SLT can treat glaucoma with many fewer side effects than eye drop medications. In general, SLT appears to be safer and more effective than these pharmaceutical agents.
Request an Appointment in San Jose or Gilroy, CA
If you are in need of SLT or you have been experiencing vision problems, schedule an appointment at South Bay Retina today. Our own Dr. Narain is an experienced ophthalmologist, retina specialist, and surgeon. Call (408) 294-3534 for our San Jose and Gilroy office. You can also schedule an appointment online, using the button below.